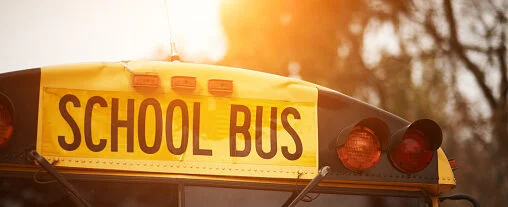 Student Bussing Information
HOPE Community Academy provides free bussing to and from our school in St. Paul and surrounding suburbs.
Please fill out the Transportation Form when you enroll.
There is free door-to-door pick up and drop off for all students, where available.
There may be some instances where we cannot accommodate your family (e.g. apartment, dead-end, cul-de-sac, etc).
Morning Bus Ride:
Please have your student(s) ready to be picked up by their bus or van 10 minutes prior to the scheduled arrival time.
As a courtesy, buses wait about 60 seconds for your student(s) to show up at their scheduled pickup location, but must move on to keep on schedule.
 Afternoon Bus Ride:
Our staff escorts all PreK – 5th students to their designated bus/van lines. Attendance is taken by the bus/van monitor.
MS/HS students are responsible for getting on their correct bus.
Students must have a bus pass in order to ride a bus other than their assigned route.
Where's my bus?
Buses and vans make every effort to pick up and drop off students in a timely manner. However, road, traffic and weather conditions can cause delays. If your student(s)' bus does not arrive within 10 minutes of the scheduled pick up or drop off time, please call our transportation coordinator, Shoua Lor, at 651-796-4500.
Parent Drop Off and Pick Up
Morning parent drop off
Morning drop off time is at 7:30 AM. Students arriving earlier than 7:30 AM must wait with their parents/guardians until doors are open.
Drop off after 8:00 AM will be considered tardy and students will need a pass to go to class. Please drop off students at the main office.
Picking up students during the day
Parents picking up students from school before dismissal (e.g., for doctor's appointments, etc) must call the main office at least an hour before pick up.
Please also inform the main office who will be picking up your child for safety reasons. Your pick up person must be able to show ID if requested.
Parent pick up at dismissal
Parent pick up time is 3:15 PM.
Parents who would like to pick up their child(ren) at dismissal must call the main office by 1:30 PM the day of.
All parents/guardians or authorized individuals picking up students at dismissal must sign the students out.
Temporary Drop-off Location – Bus/Van Passes
Parents who would like to temporarily request their student or students' drop off location for the day to be changed must give written notice of at least 24 hours or call the main office by 1:30 the day of. 
Student(s) will receive a temporary pass to be allowed to ride a different bus/van for the day.
Permanent change of pick up/drop off location
Fill out the Transportation Request Form and email it to juavahlee@hope-school.org.
It will take at least 1 week for the change to be effective.
After school activity transportation